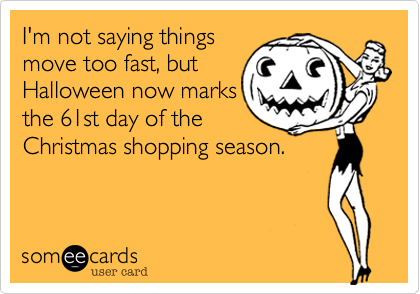 Every year I feel like the holiday season sneaks up on me...but never have I ever felt like that more than I have this year! I think the addition of my cheesecake business, plus Santa's first visit to our house this year just really has me in a tailspin!
I always like to be ahead of the game when it comes to Thanksgiving and Christmas, but I've never been one to break out the Christmas decorations before the turkey is out of the oven! That said, I'm starting to see the plus side of decorating early! I am really not sure how we'll get it all done, especially with little Chan crawling right under foot!
Luckily I got a jump start on Christmas shopping last night, Chandler has made her Christmas list for Santa (with a lot of help...obviously) and yesterday we took our Christmas card picture and ordered our cards.
While I know we'll be busy this holiday season, I'm excited about showing Chandler all of the joys of Thanksgiving and Christmas. We are blessed to be looking forward to lots of time to enjoy family and friends over the next month and a half!
Here is a sneak peek of our Christmas card! Many thanks to our tripod and the timer on the camera!!
Happy Holidays!